Research is a vital part of cancer care. It is only through exploring new and exciting ideas that we can make real progress in treatment. The Sussex Cancer Fund continues to support research in a number of ways.
National and International Projects
The S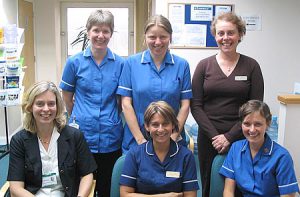 ussex Cancer Centre has always been actively involved in research and employs a full time research manager and several research nurses (pictured left) and radiographers. The research trials run by the Centre are endorsed by the NCRN (National Cancer Research Network) and are often National or International studies requiring many hundreds of patients. Occasionally to take part in these studies the Centre needs to upgrade to the latest medical technologies and it is here that the Cancer Fund has helped.
Local Projects
Many good ideas and innovations come from small projects and the Cancer Fund recognises this. In order to encourage and nurture local talent in Cancer Research the Cancer Fund has set up a Research Committee supported by a Research Fund. This Committee includes representation from all the staff groups within the Cancer Centre. One member, Consultant Oncologist Dr Richard Simcock had this to say:
"There are many staff within the Cancer Centre who have had excellent ideas about improving cancer care. These range from changes in radiotherapy technique to the use of  honey for the treatment of sore mouths. The only correct scientific way to develop and test these theories is by doing properly conducted research. This takes time and costs money. The Research Committee and the funding it will provide will allow Sussex researchers to develop ideas and test them in a way which will benefit our local patients and eventually, we hope, cancer patients everywhere."